BY RIKAKO SATO | Interviewed on August 28, 2018
Interviewee
- Name: Ayami
- Ama since 2017 summer.
- A mother of 5 children.
- Accessory designer.
- Born and raised in Osatsu, Toba.
Contact Her
- Visit her family's gift shop 'Nakatatsu Showten' directly
  Address: 1423 Osatsu, Toba city, Mie prefecture
  TEL:0599-33-6008
  Email:tacche1423@hotmail.co.jp
- Language: Japanese only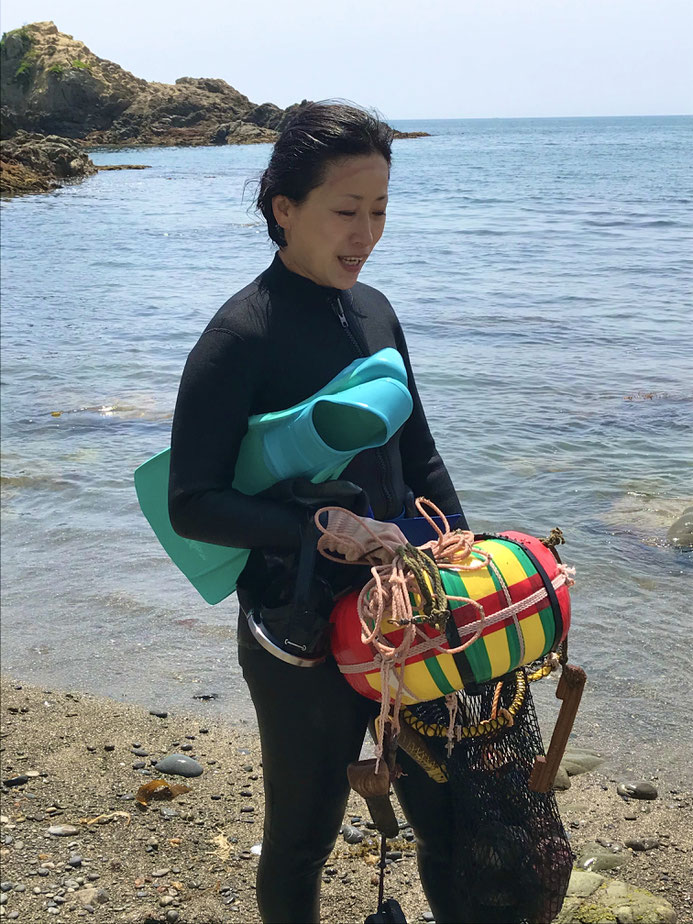 This article was made by Rikako, an Ama diver of Ijika in Toba city, through several personal interviews to know the story of each Ama diver.
---
---
I am an only child of my parents. So my mother and relatives always told me that I had to take over the family business, a gift shop, ever since I was little. So, I basically had no choice. But I asked my parents to let me do whatever I want to before coming back, so after I graduated from junior college, I went to Matsusaka and worked at a company for about 8 years, and then moved to Osaka and stayed there for one year. What if I could choose another career? Well, I wanted to be a hairdresser if I wasn't an only child, but my parents opposed to go to the school. When I came back to my home town, I met my husband and married. He also came back to succeed to his parents' ryokan (Japanese style inn) which lasts for generations. Now, we have 5 children. My husband and I talk we want to support our kids to find what they want to do and let them live wherever they want to stay in the future.
I have two boys and three girls. Of course, I always prioritize my kids first. If one of my kids catches a cold but it's not so serious like just having a little fever, I will just let him/her sleep and go Ama diving, and take the kids to see a doctor afterward. I want to go Ama diving as often as possible. We dive once a day for one and a half hours, so it's possible. If my husband's ryokan is so busy, I must go help him and his family. I do many things but I feel I always couldn't finish anything completely, and just have done everything halfway. I want to have something that I can say "This is what I do and who I am".
I am not sure exactly why, but it's probably for regulation to avoid over-fishing. Osatsu also used to dive twice per day before. It's also one of the reasons that there are many ryokans here, so people in Osatsu are too busy to dive twice because people have to prepare meals and welcome guests. But sometimes the tide is going to be lower and becoming easier to dive in the afternoon, but we must go diving in the morning even though the tide is high. At that sort of day, I feel like I want to dive a bit longer.
I didn't think of becoming an Ama, actually. I liked going to the beach and finding seafood such as sea urchins. I also like making accessories with shells and sea glasses. So, I picked up empty abalone shells on the beach and used them. But gradually I started thinking that I wanted to catch those shells by myself and make my own accessories.
When I started thinking of becoming an Ama, my grandmother had already retired and didn't go diving anymore. My mother has never been an Ama, but my mother-in law is still an Ama. But because she's a skilled veteran Ama, I hesitated asking her to be my mentor. So, I just started on my own first. I was not so confident about swimming, so I thought it's difficult for me to be an Ama. But people told me that I didn't have to a good swimmer to be an Ama, so one day, I brought my 8 year-old son with me and started Ama diving. I have never learnt Ama from my mother-in-law on the sea, but she taught me places to dive when we were at home. Places to dive is something Ama never share with others even though you know the person very well, so I feel so grateful to my mother-in-law.
Yes, that's true. So, I started Ama without a mentor first. I didn't have professional diving tools at the beginning, so I bought fins at a local DIY store and my neighbor gave me her old pair of wetsuits. Old ladies are unwilling to teach young ones. But my mentor, a male Ama, was willing to foster young people and teach them to be good Amas. He told me that he can go Ama diving along with me. Now, he teaches me and my friends as our mentor.
I do! It was 28th May in 2017. I wore wetsuit bottoms and carried all diving tools with me and went to the beach with my son. But when we arrived, I realized that I forgot to bring wetsuit jacket! So I called my house right away and asked to bring the jacket to the beach. I could get some sea urchins and Tokobushi (small species of abalone) then. I got my first abalone on 5th June, a week after my first Ama diving. I found three abalones at one place but two of them were smaller than minimum size, so I released them. After the diving, I met an old Ama who I knew on my way to the fishing market, I stopped her and said "Hey, look at my first abalone!". It was such a happy moment.
People here are very open-minded and social. I think people in Osatsu are pretty similar to people in 'Toushi' (Toushijima Island in Toba city). We have similar characters. Some people are shy and conservative, but most of them are willing to accept new things. There are some young people who lived in different cities but moved back to Osatsu like me. Because Osatsu is a tourist site and there are a number of tourists coming to the town around the year, it might be easier for people to choose coming back if they can use that foundation to make their living. I think for young people who are thinking of taking over their family business or who want to start a new business, Osatsu has a good environment that they can decide to come back.
I will tell the person that she has to be a citizen of this town and become a member of local fishing co-op. Toba city has guidance leaflets about migration, so I will tell her to check them out. But to be a member of fishing co-op is very difficult and the membership fee is quite costly considering Ama's income. If there is something like light permission that people can try Ama diving as an experience, that can be easier. But perhaps things are not as easy as I imagine.
'POWERFUL'! That's what I think of Ama.